The exhibition's offer at a glance

Chillventa presents a cross-section of the industry with its comprehensive range of innovations, components, systems and applications for Refrigeration - AC & Ventilation - Heat Pumps.
The world of Chillventa
In keeping pace with the energy efficiency, heat pumps and refrigeration sector, Chillventa helps you to monitor the market and the competition.
Refrigeration
Insulation
C&I/Automation
Air conditioning
Ventilation
Heat pumps
Services for the sectors
Refrigeration cycle
The range of products of Chillventa is more extensive than at any other exhibition in the world. Starting from the refrigeration cycle, the animation uses a few examples of applications to illustrate how widespread the various themes are anchored in everyday life and at the same time form the basis of Chillventa.
Refrigeration cycle
3-D visualization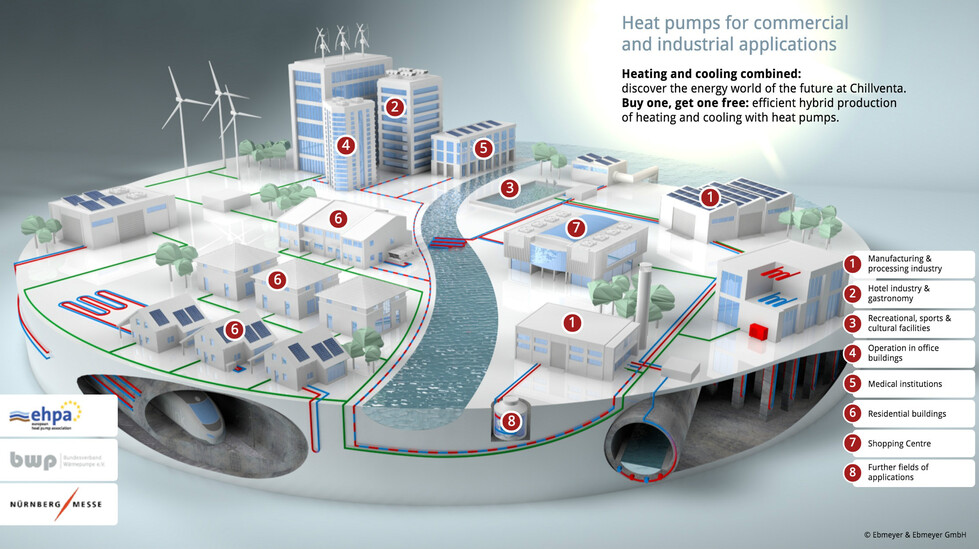 Discover the energy world of the future at Chillventa. The 3-D visualization of efficient hybrid heating and refrigeration generation by heat pumps with application examples.
Start animation
---
Where can you find what in the exhibition venue? The floor plan shows you the hall allocation, main themes, entrances and exits, catering outlets, toilets and car parks at a glance.
You are looking for a particular exhibitor at Chillventa or would like to find out about their products in advance? Our exhibitor and product search helps you to plan your visit. You can also put together your own personal guided tour of Chillventa.